Categories
Zucchini squash fries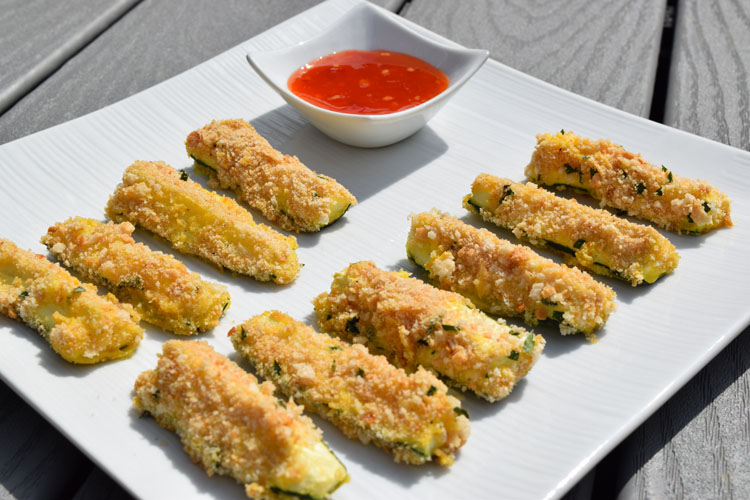 Yield
Number of servings: 6
Serving size: 6 fries
Ingredients
3 zucchini squash (400 g)
30 g Eggz from Cambrooke (2333)
1/3 cup (75 ml) unsweetened almond milk
4 Aproten crackers (0204)
Preparation
Preheat the oven to 400 F.
Reduce the crackers into breadcrumbs. A mortar helps to obtain fine and uniform breadcrumbs. Set aside.
In a bowl, mix together the Eggz and the almond milk. Set aside.
Cut each zucchini in 2 lengthwise and then in 2 in the other way. Cut each piece in 3 lengthwise, to obtain pieces resembling fries. Repeat with all the zucchini pieces.
Dip each piece of zucchini in the Eggz preparation, then in the bread crumbs. Place on a baking sheet lined with parchment paper. Repeat with all the zucchini pieces.
Spray a cooking spray (type PAM) lightly onto all the pieces. This will help obtaining golden fries.
Bake for about 30 minutes.
Nutritional facts
Energy

63 kcal

Protein

1 g

PHE

37 mg

TYR

26 mg

LEU

54 mg

VAL

40 mg

ILE

34 mg

MET

46 mg

LYS

13 mg
Energy

380 kcal

Protein

6 g

PHE

224 mg

TYR

154 mg

LEU

327 mg

VAL

243 mg

ILE

201 mg

MET

279 mg

LYS

77 mg
© Genevieve Lafrance 2023