Categories
''tuna'' melt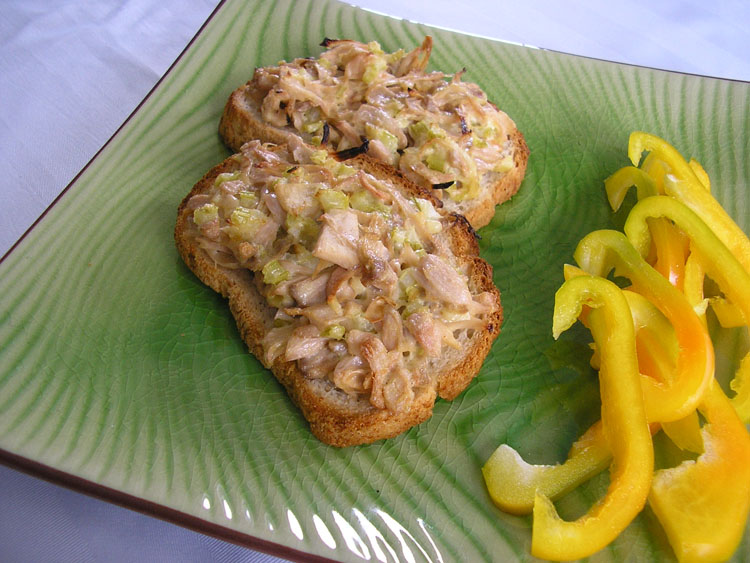 Yield
Number of servings: 6
Serving size: 1/3 cup or 1/6 or the recipe (''tuna'' mix only)
Ingredients
1 can (565 g or 20 on) Jackfruit green in brine (not in syrup !)
1 tsp (5 ml) olive oil
2 Tbsp (30 ml) onion, chopped
2 garlic cloves
1 Tbsp (15 ml) Dijon mustard
¼ cup (60 ml) Miracle Whip
1 Tbsp (15 ml) lemon juice
1 celery stalk, chopped
Salt and pepper
Preparation
Preheat the oven to 375 F.
Open and drain canned jackfruit. Rinse and shred the jackfruit.
In a skillet, heat the oil. Cook onion and garlic. Cook for a few minutes.
Add the jackfruit and heat for a few minutes, stirring to evaporate the excess water.
Put the hot jackfruit mixture in a bowl. Add mustard, Miracle whip, lemon juice, chopped celery, salt and pepper. Mix well.
Spread the "tuna" filling on 6 low protein bread slices (don't forget to calculate the protein content). Bake in the oven for 15 minutes.
Suggestion : Add a little of low pro shredded cheese in the ''tuna'' mix and mix well. Don't' forget to add the protein content from the cheese.
Nutritional facts
Energy

69 kcal

Protein

0.8 g

PHE

23 mg

TYR

16 mg

LEU

34 mg

VAL

31 mg

ILE

24 mg

MET

8 mg

LYS

28 mg
Energy

415 kcal

Protein

4.5 g

PHE

138 mg

TYR

94 mg

LEU

203 mg

VAL

186 mg

ILE

145 mg

MET

51 mg

LYS

171 mg
© Genevieve Lafrance 2023