Vegetables with Indian-inspired butter sauce
Categories
Vegetables with Indian-inspired butter sauce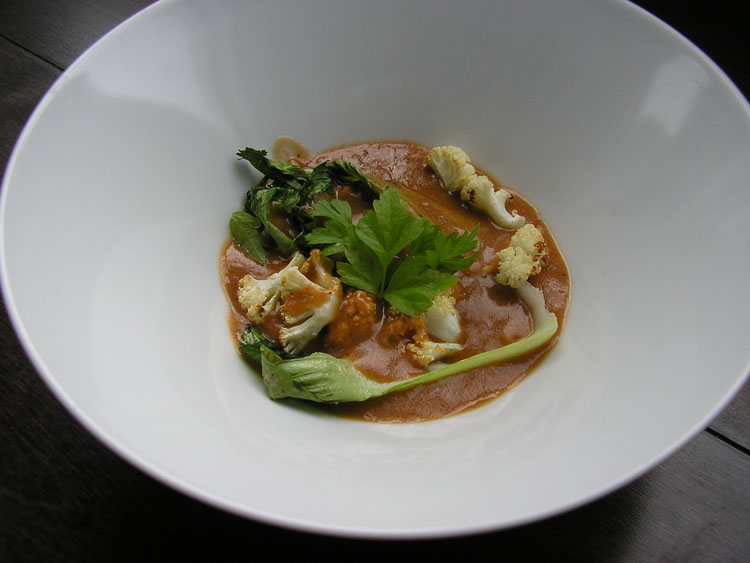 Yield
Number of servings: 6
Serving size: 1/3 cup or 1/6 of the recipe
Ingredients
1 Tbsp (15 ml) canola oil
2 tsp (10 ml) grated fresh ginger
2 cloves garlic, chopped
¾ cup (175 ml) tomato sauce
½ tsp (2.5 ml) crushed chili
4 Tbsp (60 ml) butter
2 tsp (10 ml) garam masala
1 Tbsp (15 ml) honey
½ tsp (2.5 ml) dried fenugreek leaves (optional)
2 c. tablespoon (15 ml) 35% cream
2-3 pinches of salt
1 ¼ cups (310 mL) water
1 c. tablespoon (15 mL) cornstarch
1 1/2 cup (375 ml) or 140 g cauliflower
2 cups (500 ml) or 120 g Bok Choy
1 Tbsp (15 ml) Canola Oil
Salt and pepper
Fresh cilandro to garnish
Low protein rice, cooked
Preparation
Preheat oven to 375F. In a bowl, place the cauliflower florets. Coat with olive oil. Add salt and pepper. Place on a cookie sheet and bake about 20 minutes.
After 20 minutes of cooking, add the bok choy cut into 2 pieces, coated with oil. Cook for about another 10 minutes.
Meanwhile, heat oil in a pot. Add ginger and garlic and sauté for 2-3 minutes. Add tomato sauce, ground pepper, butter, garam masala, honey, cream and salt. Simmer for a few minutes.
In a measuring cup, place the cornstarch and mix in a little water. Add the rest of the water.
Add the water and cornstarch mixture into the simmering sauce. Stir until it thickens.
To serve, in a bowl, place the cooked low protein rice, grilled vegetables and sauce. Garnish with fresh coriander. Enjoy!
Nutritional facts
Energy

162 kcal

Protein

1.4 g

PHE

47 mg

TYR

32 mg

LEU

71 mg

VAL

64 mg

ILE

47 mg

MET

15 mg

LYS

92 mg
Energy

973 kcal

Protein

8.3 g

PHE

280 mg

TYR

193 mg

LEU

426 mg

VAL

385 mg

ILE

281 mg

MET

89 mg

LYS

552 mg
© Genevieve Lafrance 2023