Categories
smoked ''salmon''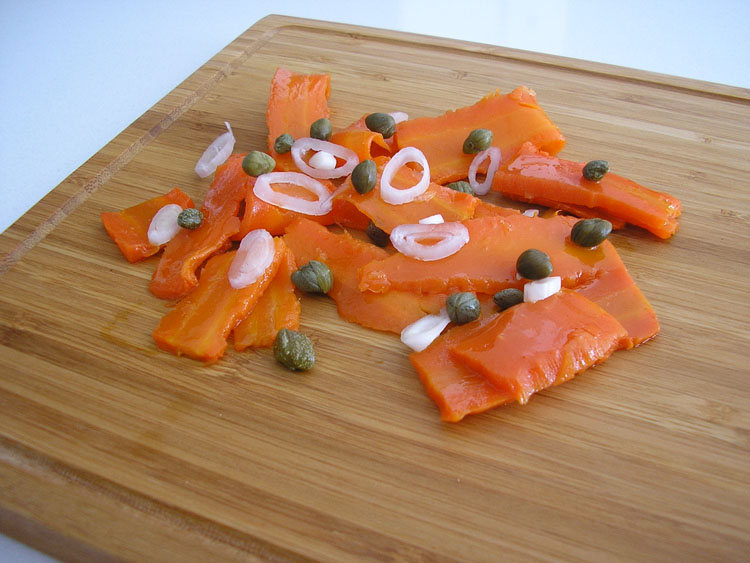 Yield
Number of servings: 4
Serving size: 1/4 of the recipe (around 50 g of carrot)
Ingredients
3 big carrots (do not peel) about 225 g
Around 2 cups (500 ml) kosher salt
Marinade
1 Tbsp (15 ml) olive oil
1 tsp (5 ml) liquid smoke
½ tsp (2,5 ml) rice vinegar
Preparation
Preheat the oven to 375 F.
In a baking dish, place some salt to cover the bottom. Top with unpeeled carrots avoiding them to touch and toutching the baking dish.
Put the rest of the salt to cover the whole carrots.
Bake for 1h30.
Let cool for about 10 minutes. Break the salt crust and remove the carrots. Remove all visible salt from the carrots.
Peel the carrots.
Cut into thin slices lengthwise. Place in a container with the marinade ingredients and marinate for 2-3 days in the fridge.
Try on a low protein bagel with a little low protein cream cheese, capers, red onions (or shallots). The illusion is perfect!
From this recipe, only carrots provide protein. So you only calculate the amount of carrot consumed.
Adapted from ''Olives for diner'' blog
Nutritional facts
Energy

53 kcal

Protein

0.5 g

PHE

34 mg

TYR

24 mg

LEU

58 mg

VAL

39 mg

ILE

43 mg

MET

11 mg

LYS

57 mg
Energy

212 kcal

Protein

2.1 g

PHE

137 mg

TYR

97 mg

LEU

230 mg

VAL

155 mg

ILE

173 mg

MET

45 mg

LYS

227 mg
© Genevieve Lafrance 2023