Orange and ginger stir fry
Categories
Orange and ginger stir fry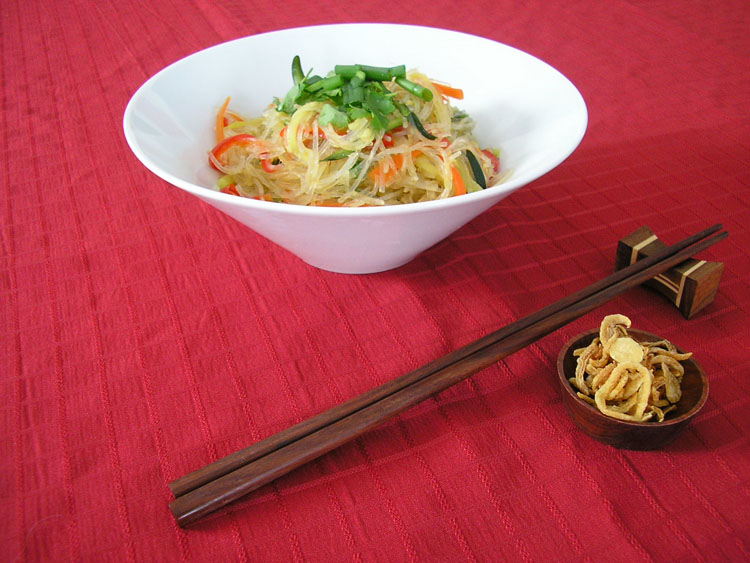 Yield
Number of servings: 6
Serving size: 1 cup (250 ml)
Ingredients
4 X 50 g mung bean noodles
¼ cup (60 ml) canola oil
2 tsp (10 ml) sesame oil
2 cloves of garlic
2 Tbsp (30 ml ) ginger, julienned
2 small carrots, julienned
1 red bell pepper, julienned
1 yellow zucchini, julienned
1 green zucchini, julienned
½ cup (125 ml) snow peas, julienned
1 small red onion, julienned
4 green onions, sliced
Salt and pepper
2 Tbsp (30 ml) rice vinegar
2 Tbsp (30 ml) orange juice
Preparation
In a large bowl filled with warm water, soak the noodles for about 15 minutes, to soften. Drain well. Cut with scissors to get 4 inches long pasta (10 cm).
In a large skillet, heat the canola oil and sesame oil. Add ginger and garlic and cook for about 1 minute. Add the peas, carrots, zucchini and red onion . Sauté for about 3 minutes. Add green onions. Season with salt and pepper.
Add softened noodles. Sauté over high heat for 2 minutes.
Add rice vinegar and orange juice and cook until noodles are transparent, about 2 minutes.
Serve.
Tip : For the rest of the family , you can add pieces of chicken breast or shrimps to make a complete meal!
Nutritional facts
Energy

277 kcal

Protein

2.4 g

PHE

86 mg

TYR

56 mg

LEU

132 mg

VAL

118 mg

ILE

86 mg

MET

26 mg

LYS

130 mg
Energy

1660 kcal

Protein

14.3 g

PHE

519 mg

TYR

336 mg

LEU

794 mg

VAL

707 mg

ILE

516 mg

MET

154 mg

LYS

782 mg
© Genevieve Lafrance 2023