Categories
Shepherd's pie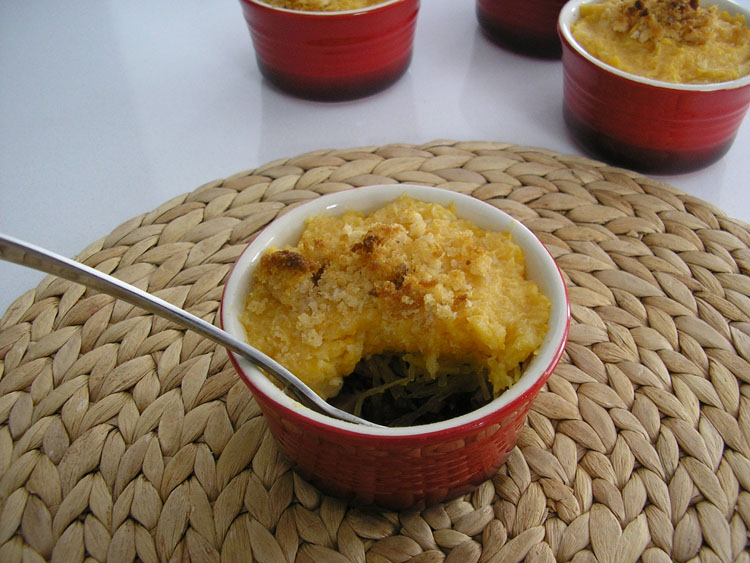 Yield
Number of servings: 8
Serving size: 1/8 of the recipe
Ingredients
«Steak»
227 g white mushrooms
¼ cup (60 ml) onion
1 Tbsp (15 ml) olive oil
Steak spices (to taste)
«Corn»
2 cups (500 ml) cooked spaghetti squash (380 g)
«Potato»
200 g tunips, cubed
150 g potato, cubed
200 g butternut squash, cubed
200 g celeriac, cubed
2 Tbsp (30 ml) margarine
Preparation
In food a processor, chop the mushrooms and onion finely. In a hot pan, heat oil and saute the chopped vegetables.
To cook the spaghetti squash, cut in two and empty take out the seeds. Place on a cookie sheet and bake at 350F for 35-50 minutes, or for 10-15 minutes or in the microwave. Take out the pulp with a fork.
In another pot, cook the turnip, potato, butternut squash and celeriac in salted water. When tender, puree and add margarine.
Preheat oven to 350 F.
Into 8 small individual ovenproof containers (or a big one), separate the mushroom mix. Divide the cooked spaghetti squash on the mushrooms. Spread mashed vegetables on top.
Nutritional facts
Energy

103 kcal

Protein

2.3 g

PHE

75 mg

TYR

51 mg

LEU

106 mg

VAL

127 mg

ILE

74 mg

MET

27 mg

LYS

90 mg
Energy

821 kcal

Protein

18.6 g

PHE

599 mg

TYR

411 mg

LEU

845 mg

VAL

1013 mg

ILE

592 mg

MET

215 mg

LYS

721 mg
© Genevieve Lafrance 2023