Categories
Jackfruit nugget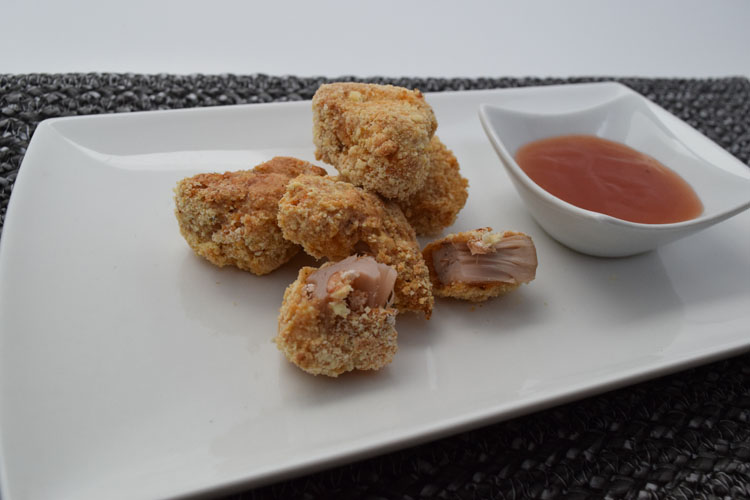 Yield
Number of servings: 16
Serving size: 1 nugget
Ingredients
1 can of jackfruit (green in brine)
50 g Welplan baking mix (1123)
½ tsp (2,5 ml) garlic powder
½ tsp (2,5 ml) onion powder
½ tsp (2,5 ml) paprika
½ tsp (2,5 ml) dried oregano
Salt and pepper
100 ml aquafaba (liquid from a can of chickpeas)
13 Loprofin crackers (90 g) Loprofin in fine bread crumbs (1107)
Preparation
Preheat the oven to 350 F.
Drain the jackfruit. Rinse thoroughly. Drain. Cut into pieces the size of a nugget. Set aside.
Prepare the 3 mixes for breading:
Mix 1: Mix together the Welplan baking mix, garlic powder, onion powder, paprika, oregano, salt and pepper.
Mixture 2: Aquafaba.
Mixture 3: Bread crumbs.
Line a baking sheet with parchment paper.
Take a piece of jackfruit, coat it with the mixture 1. Shake the excess.
Dip this piece in the aquafaba. Roll in the bread crumbs.
Repeat these 3 steps with the same piece of jackfruit to obtain an interesting thickness of breadcrumbs. Place on the baking sheet.
Repeat with all pieces of jackfruit.
Bake for 20-25 minutes. Return to mid-cooking.
Freezes very well! Place the frozen pieces on a baking sheet. Bake at 350 F for about 20 minutes, return to mid-cooking.
Serve with your favorite nugget sauce!
Nutritional facts
Energy

46 kcal

Protein

0.3 g

PHE

12 mg

TYR

8 mg

LEU

16 mg

VAL

13 mg

ILE

10 mg

MET

3 mg

LYS

13 mg
Energy

744 kcal

Protein

4.1 g

PHE

187 mg

TYR

132 mg

LEU

253 mg

VAL

215 mg

ILE

158 mg

MET

50 mg

LYS

204 mg
© Genevieve Lafrance 2022