Categories
Poke bowl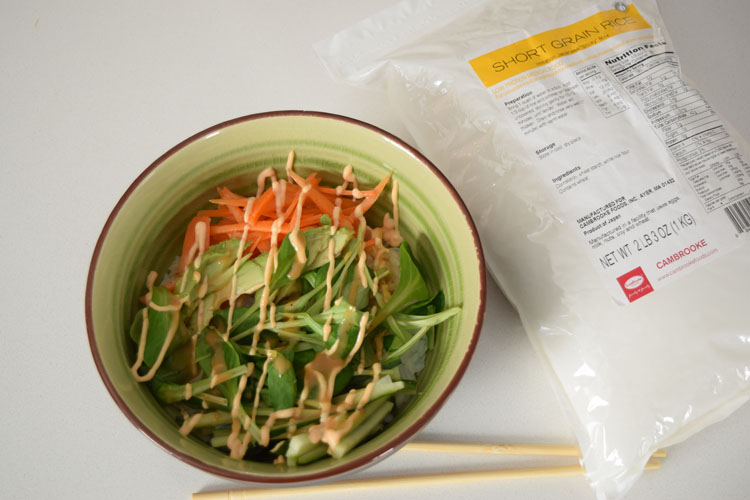 Yield
Number of servings: 1
Serving size: 1 big bowl
Ingredients
2/3 cup (150 ml) Cambrooke short grain rice (2407)
2 tsp (10 ml) rice vinegar
¼ tsp (1 ml) salt
¼ tsp (1 ml) sugar
¼ cup (60 ml) shredded carrots
¼ cup (60 ml) shredded cucumber
¼ cup (60 ml) chopped iceberg lettuce
¼ medium avocado, cut to your liking
Salad Dressing
1 Tbsp. (15 ml) mayonnaise
½ tsp (2 ml) sriracha sauce
1 Tbsp. (15 ml) sesame salad dressing
Preparation
In a large quantity of boiling water, add Cambrooke short grain rice and cook for 10 minutes.
During this time, in a small bowl, mix together the vinegar, salt and sugar.
When rice is cooked, drain and rinse rice until water runs clear (this removes surface starch and keeps rice from getting gummy).
Once well drained, add the vinegar mix to the rice. Set aside.
Mayonnaise Salad Sauce
In a different small bowl, mix together the mayonnaise and the sriracha sauce. Set aside.
Pulling It All Together
1. Garnish the rice with the cut-up vegetables and avocado pieces.
2. Top the dish with the mayonnaise salad sauce and the sesame salad dressing
3. Enjoy !
Tip: Try with different vegetables: beets, mushrooms, spring onions, other types of lettuce, etc.
Nutritional facts
Energy

648 kcal

Protein

2.5 g

PHE

108 mg

TYR

65 mg

LEU

161 mg

VAL

110 mg

ILE

91 mg

MET

44 mg

LYS

134 mg
Energy

648 kcal

Protein

2.5 g

PHE

108 mg

TYR

65 mg

LEU

161 mg

VAL

110 mg

ILE

91 mg

MET

44 mg

LYS

134 mg
© Genevieve Lafrance 2023