Categories
''Pigs'' in a blanket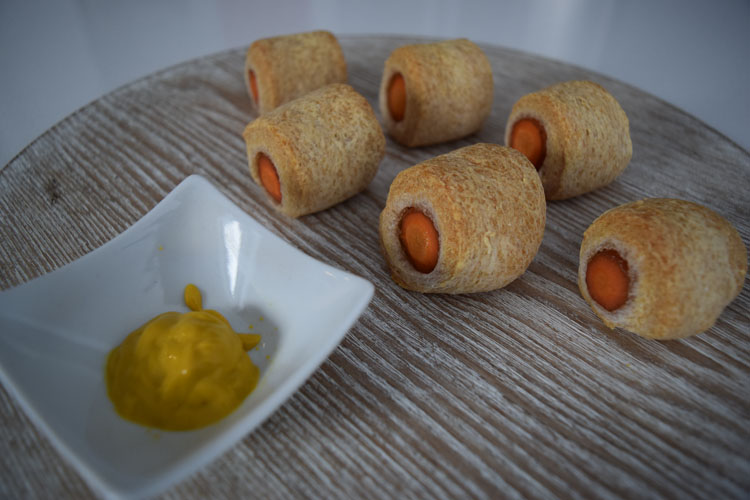 Yield
Number of servings: 24
Serving size: 1 bite
Ingredients
1 recipe of car«hot»-dog
Marinade
3 Tbsp (45 ml) vinegar
¾ cup (175 ml) water
¼ tsp (1 ml) de salt
2 tsp (30 ml) sesame oil
1/3 cup (75 ml) soy sauce
1 clove of garlic, minced
¾ tsp (4 ml) liquid smoke
1 recipe of pizza dough (1/2of the recipe will be used for the pigs in a blanket)
2 tsp (10 ml) sugar
1 ¾ cup (425 ml) warm water
6 g (1 ½ tsp) traditionnal yeast
2 Tbsp (30 ml) olive oil
350 g (3 ½ cups) Wheat starch (0454 or 2203)
60 g (1/3 cup) Métamucil (or 30 g whole psyllium husk)
½ tsp (2,5 ml) salt
1 Tbsp (15 ml) Baking powder
Preparation
Prepare the car''hot''-dogs
In a pot, place the whole carrots with water. Once the water is boiling, cook for about 12 minutes. Carrots should be al-dente.
To stop the cooking, put the carrots in cold water.
During cooking, mix together the ingredients for the marinade and place it in an airtight container.
Once cooked, place the cooled carrots in the marinade. Refrigerate for at least 24 hours.
Prepare the pizza dough
In a bowl, mix warm water, sugar and yeast. Let stand for 5-10 minutes to activate the yeast.
Meanwhile, mix together the wheat starch, Metamucil, salt and baking powder.
When the yeast is activated, add oil to the mix. Make a well in center of dry ingredients. Pour the liquid ingredients. Mix well. Knead the dough for a few minutes.
Place in an oiled bowl and let rise for 25-30 minutes with humidity (Heat a cup of water in the microwave oven, it creates the perfect humid place to let the dough rise).
Prepare the pigs in a blanket
Preheat oven to 350 F.
Dry the carrots with a paper towel.
Roll dough to obtain a rectangle of 35 x 25 cm (17 x 10 inches).
Place marinated carrot on the dough. Roll to cover the dough (dough should overlap slightly below the carrot).
Cut into 3 sections and place on a baking sheet.
Repeat the steps to use all the carrots and half the dough recipe.
Bake for 17-20 minutes.
Serve with ketchup, mustard or your favorite sauce.
Note: With the other half of dough, take the opportunity to try English muffins! (Find all the instructions in the recipe for English muffins).
The nutritional value includes 1 carrot-dog recipe and ½ a pizza dough recipe.
Nutritional facts
Energy

47 kcal

Protein

0.2 g

PHE

15 mg

TYR

10 mg

LEU

25 mg

VAL

17 mg

ILE

18 mg

MET

5 mg

LYS

25 mg
Energy

1137 kcal

Protein

5.3 g

PHE

361 mg

TYR

251 mg

LEU

602 mg

VAL

419 mg

ILE

440 mg

MET

121 mg

LYS

600 mg
© Genevieve Lafrance 2023