Categories
Ribs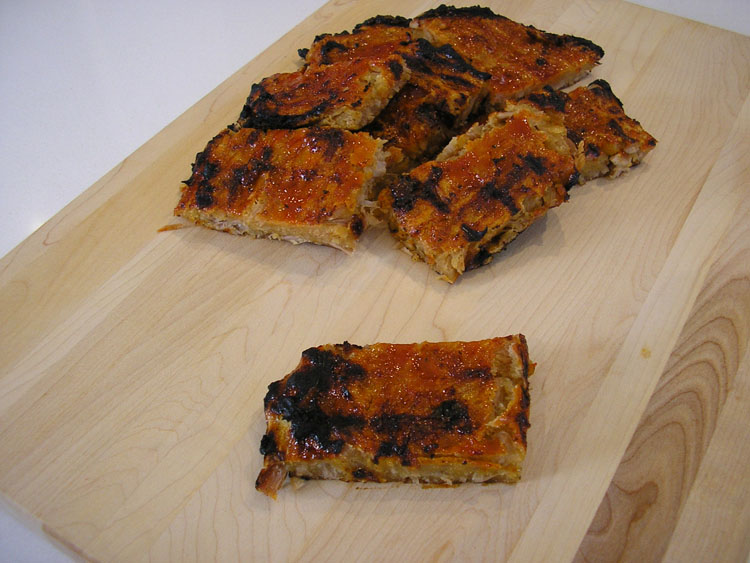 Yield
Number of servings: 4
Serving size: 1/4 of the recipe
Ingredients
1 can (565 g or 20 on) Jackfruit green in brine (not in syrup !)
1 cup (250 ml) Welplan Baking mix from Nutricia (1123)
1 Tbsp (15 ml) onion powder
1 tsp (5 ml) garlic powder
½ tsp (2.5 ml) ground ginger
¼ tsp (1 ml) pepper
1/3 cup (75 ml) water
1 tsp (5 ml) salt
2 Tbsp (30 ml) Rib and chicken BBQ sauce
1 Tbsp (15 ml) canola oil
A few drops of liquid smoke
Marinade
3 Tbsp (45 ml) ribs and chicken BBQ sauce
Preparation
Preheat oven to 350 F.
Open and drain the canned jackfruit. Rinse well. Shred every jackfruit section. Put in a big bowl. Add baking mix, garlic and onion powder, ginger, pepper, water, salt, 2 Tbsp of BBQ sauce, oil and liquid smoke. Mix well.
Place the dough in a 8 inch square glass baking dish, lightly oiled. Cover the entire surface. Cook for 30 minutes.
Let it cool. Brush with BBQ sauce on the 2 sides and refrigerate for 24 hours.
Finish cooking by grilling on the BBQ.
Cut into pieces and serve.
Nutritional facts
Energy

187 kcal

Protein

1.5 g

PHE

40 mg

TYR

26 mg

LEU

52 mg

VAL

48 mg

ILE

37 mg

MET

12 mg

LYS

50 mg
Energy

749 kcal

Protein

5.9 g

PHE

161 mg

TYR

102 mg

LEU

209 mg

VAL

191 mg

ILE

148 mg

MET

48 mg

LYS

202 mg
© Genevieve Lafrance 2023