Categories
Pad Thai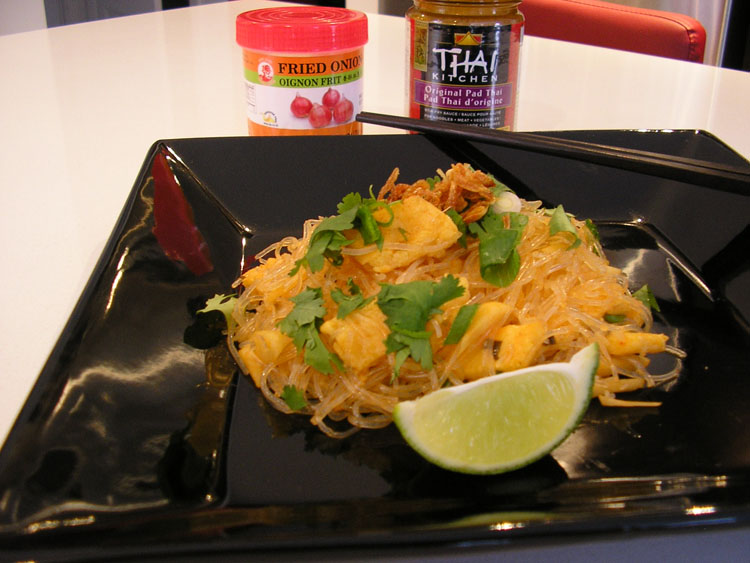 Yield
Number of servings: 2
Serving size: 1 1/2 cup (375 ml)
Ingredients
2 X 50 g mung bean noodles
3 Tbsp (45 ml ) Country Sunrise Egg substitute (0951)
2 tsp (10 ml) canola oil
¼ cup (60 ml ) water
1 tsp (5 ml) canola oil
½ cup (125 ml) sliced water chestnuts
3 Tbsp (45 ml) Thai's Kitchen pad thai sauce
2 green onions, thinly sliced
Fresh cilantro for garnish
Fried onions for garnish

Preparation
In a large bowl, place the noodles. Cover with hot water and soak for 15 minutes.
In a small bowl, mix the egg substitute, canola oil and water.
In a wok, heat oil. Pour the egg mix. Cook for 1-2 minutes. When bubbles begin to form, flip the omelet. Cook the second side for about 30 seconds. Place on a plate. Let it cool and cut into squares.
If necessary, a little oil in the wok. Drain the noodles completely. Place the noodles in the wok. Add water chestnuts and sauce. Mix well. Add omelet and green onions and mix again.
Serve. Garnish with cilantro and fried onions.

Nutritional facts
Energy

354 kcal

Protein

0.9 g

PHE

38 mg

TYR

24 mg

LEU

64 mg

VAL

46 mg

ILE

40 mg

MET

18 mg

LYS

60 mg
Energy

707 kcal

Protein

1.8 g

PHE

76 mg

TYR

48 mg

LEU

127 mg

VAL

92 mg

ILE

81 mg

MET

37 mg

LYS

121 mg
© Genevieve Lafrance 2023