Koreen inspired pulled jackfruit
Categories
Koreen inspired pulled jackfruit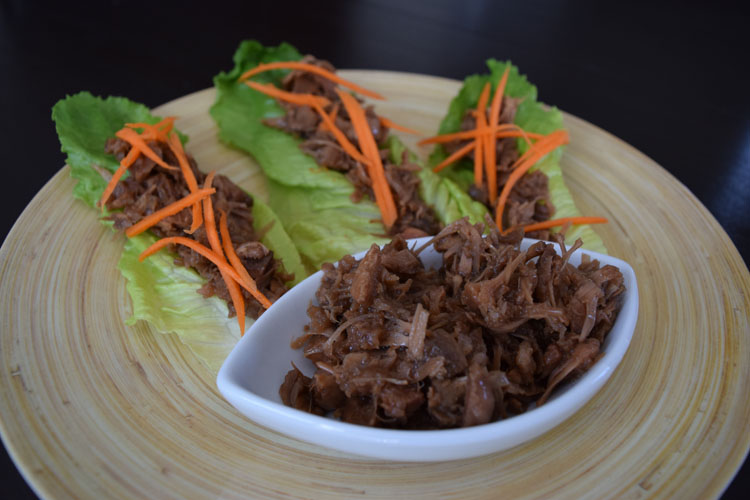 Yield
Number of servings: 6
Serving size: 1/3 cup (75 ml)
Ingredients
1 can of Jackfruit green in brine (not syrup !)
½ cup (125 ml) white wine
1 pouch G. Washington's rich brown seasoning & broth
¼ cup (60 ml) water
2 Tbsp (30 ml) maple syrup
2 Tbsp (30 ml) soy sauce
2 tsp (10 ml) sesame oil
1 small onion, chopped
1 apple, peeled and cut into cubes
1 Tbsp (15 m) fresh ginger, chopped
4 cloves of garlic, chopped
Preparation
Drain the canned jackfruit. Rince with fresh water and drain well. Put in slow cooker.
Add all other ingredients in the slow cooker. Cook on low for 6 hours.
After 6 hours of cooking, use a spoon or spatula to mash all the ingredients. You should obtain something that looks like shredded meat. At this point, the jackfruit is really soft and easy to ''mash''. If there is too much broth left, cook for about 1 additional hour at high intensity. All the broth will be absorbed .
Serve on a bowl of low protein rice with a green vegetable. Can also be served as ''wrap'' in a boston lettuce leaf with pickled cucumber or carrot .
A sweet and savory delight, that tastes like a Koreen bbq !
Adapted from namelymarly.com
Nutritional facts
Energy

70 kcal

Protein

1 g

PHE

40 mg

TYR

26 mg

LEU

60 mg

VAL

50 mg

ILE

38 mg

MET

14 mg

LYS

47 mg
Energy

422 kcal

Protein

5.7 g

PHE

243 mg

TYR

155 mg

LEU

360 mg

VAL

297 mg

ILE

231 mg

MET

85 mg

LYS

283 mg
© Genevieve Lafrance 2023