Categories
Spring rolls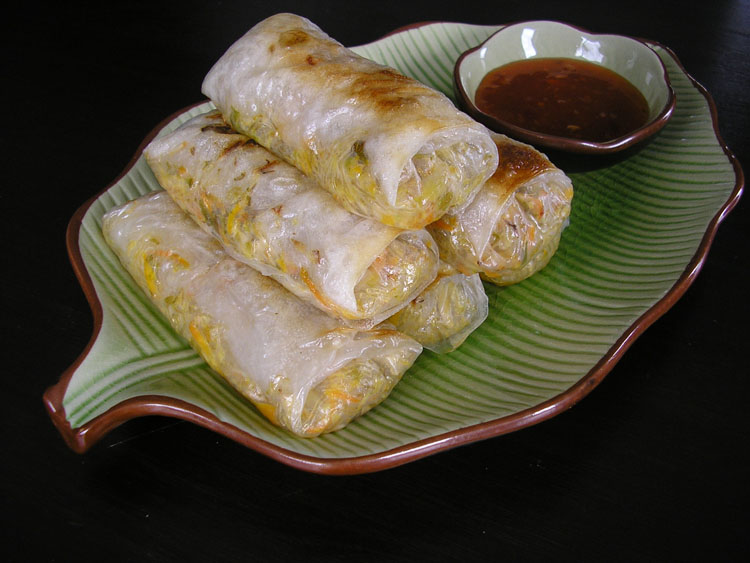 Yield
Number of servings: 10
Serving size: 1 roll
Ingredients
60 g mung bean noodles
1 Tbsp (15 ml) canola oil
2 cups (500 ml) shredded cabbage (150 g)
1 cup (250 ml) shredded carrots (100 g)
1 Tbsp (15 ml) grated fresh ginger
¼ cup (60 ml) water
½ tsp (2.5 ml) salt
1 tsp (5 ml) sugar
1 Tbsp (15 ml) rice vinegar
1 tsp (5 ml) sesame oil
10 rice paper
Sweet chili sauce to serve
Preparation
In a large pot of boiling water, place the noodles and cook for 2 minutes. Remove from heat and let stand in water to finish cooking. Check often and when cooking is adequate, drain the noodles and set aside.
In a pan, heat canola oil. Cook garlic and ginger for 1 minute. Add cabbage, carrots and water. Cover and cook for a few minutes. When the cabbage is softened, add salt, sugar, rice vinegar and sesame oil. Mix well and cook until the mixture to dry.
Add the noodles to the cabbage mixture and stir well. Remove from heat.
In a shallow bowl,put warm water. Dip 1 rice paper at a time to soften. Remove the sheet from the water and place it on a flat work surface. Place 3 Tbsp (45 ml) of cabbage filling on the 1/3 of the sheet. Fold the sheet over the filling, then the two sides. Roll to the end.
Repeat the last step until you no longer trim. You should get 10 rolls.
Serve with sweet chilli sauce.
Nutritional facts
Energy

48 kcal

Protein

0.3 g

PHE

12 mg

TYR

8 mg

LEU

18 mg

VAL

15 mg

ILE

14 mg

MET

4 mg

LYS

18 mg
Energy

478 kcal

Protein

3.2 g

PHE

123 mg

TYR

78 mg

LEU

185 mg

VAL

150 mg

ILE

136 mg

MET

42 mg

LYS

185 mg
© Genevieve Lafrance 2023