Categories
Butternut squash gnocchi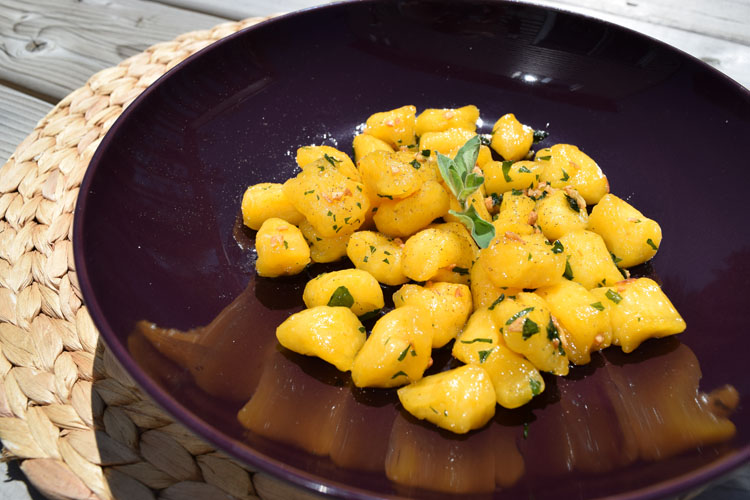 Yield
Number of servings: 4
Serving size: 1/2 cup (125 ml)
Ingredients
190 g (1 cup) butternut squash, in cubes
¾ cup (175 ml) Cambrooke All-purpose baking mix (2301)
½ cup (125 ml) Wheat starch (0454 ou 2203)
½ tsp (2,5 ml) baking powder
Nutmeg
Salt and pepper
About ¼ cup (60 ml) extra wheat starch (for kneading)
1 Tbsp (15 ml) olive oil
1 Tbsp (15 ml) butter
1 Tbsp (15 ml) fresh herb of your choice (oregano, rosemary or sage)
1 clove of garlic
Preparation
In the microwave oven, bake the squash for 10-15 minutes. It must be cooked enough to easily mash it. Cool completely in refrigerator for about 1 hour.
Mash the squash. Add the all-purpose baking mix, wheat starch (1/2 cup), baking powder, nutmeg, salt and pepper. Mix well.
Knead the dough for a few minutes on a floured work surface (with extra wheat stach).
Make 4 rolls of 1 cm in diameter. Cut into pieces about 1 cm long. Lightly flour to prevent the pieces from sticking together.
Bake in salted boiling water. The gnocchi are cooked as soon as they rise to the surface. Remove from water.
Heat oil and butter in a skillet. Add garlic and herbs. Sauté the gnocchi a few minutes in oil.
Enjoy!
A special thanks to Valerie Durocher who adapted a Ricardo's recipe!
Nutritional facts
Energy

468 kcal

Protein

0.9 g

PHE

32 mg

TYR

20 mg

LEU

52 mg

VAL

41 mg

ILE

32 mg

MET

12 mg

LYS

54 mg
Energy

1874 kcal

Protein

3.5 g

PHE

126 mg

TYR

82 mg

LEU

207 mg

VAL

163 mg

ILE

127 mg

MET

46 mg

LYS

214 mg
© Genevieve Lafrance 2023