Categories
Eggplant ''meat'' balls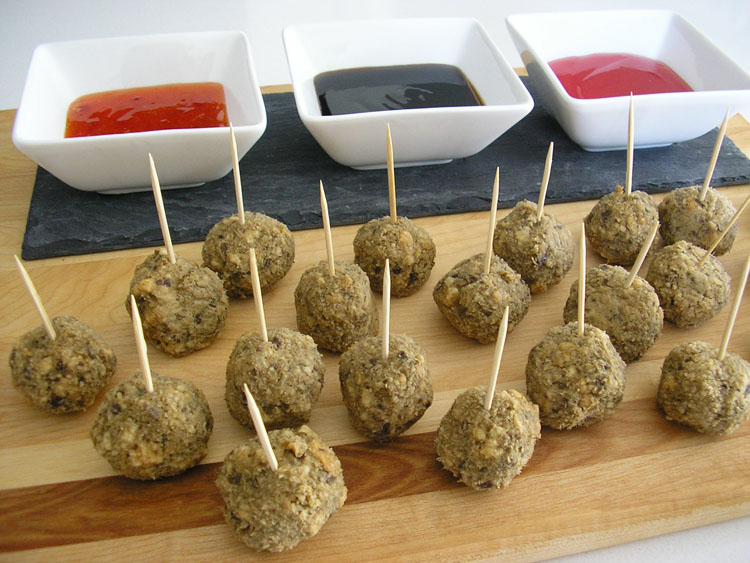 Yield
Number of servings: 24
Serving size: 1 ball
Ingredients
1 Tbsp (15 ml) olive oil
2 Tbsp (30 ml) chopped onion
2 garlic cloves, minced
1 medium eggplant (550 g) cubed
2 cups (500 ml) low-protein bread crumbs (10 crackers Aproten reduced to crumbs, 0204)
1 tsp (5 ml) dried oregano
1 tsp (5 ml) dried parsley
1 Tbsp (15 ml) Country Sunrise egg substitute (0951)
Salt and pepper
Preparation
Preheat oven to 375 F.
In a large pan, heat the oil. Saute the onion for a few minutes. Add garlic and cook for 2 minutes. Add the eggplant cubes and cook for 15 minutes, until the eggplant becomes gray.
Meanwhile, place the crackers in the food processor and reduce to crumbs. Add herbs, egg substitute, salt and pepper. Keep aside.
When cooked, put the eggplant mixture in the food processor and puree. Add crumb mixture and mix well.
Take 1 Tbsp (15 ml) of the mixture and form a ball. Place it on a baking sheet covered with parchment paper. Repeat until you've used all the preparation.
Bake for 20-25 minutes, taking care to turn halfway through cooking.
Note: Freezes well!

Nutritional facts
Energy

26 kcal

Protein

0.3 g

PHE

13 mg

TYR

8 mg

LEU

21 mg

VAL

17 mg

ILE

14 mg

MET

4 mg

LYS

14 mg
Energy

629 kcal

Protein

7.6 g

PHE

323 mg

TYR

203 mg

LEU

501 mg

VAL

403 mg

ILE

327 mg

MET

98 mg

LYS

344 mg
© Genevieve Lafrance 2023