Categories
Thai salad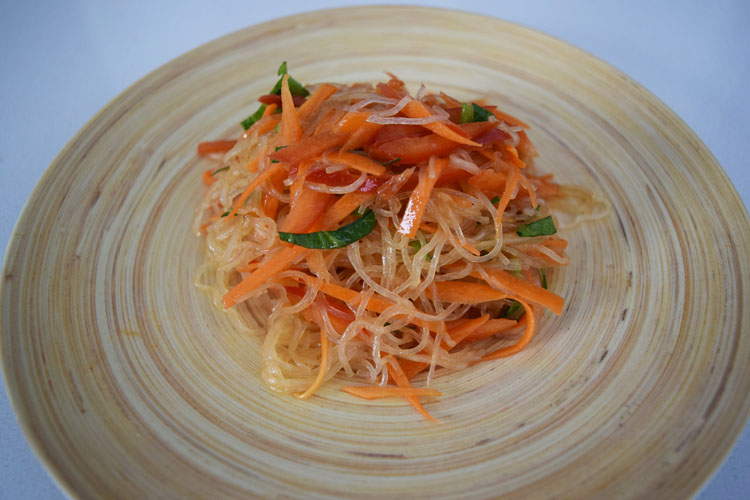 Yield
Number of servings: 1
Serving size: 1 salad (about 1 1/2 cup)
Ingredients
Dressing
½ Tbsp (7.5 ml) Pea-NOT butter from Cambrooke (2933)
½ Tbsp (7.5 ml) soy sauce
1 tsp (5 ml) rice vinegar
½ tsp (2.5 ml) sambal oelek
½ Tbsp (7.5 ml) honey
¼ tsp (1 ml) fresh ginger, grated
¼ tsp (1 ml) fresh garlic, grated
1 tsp (5 ml) canola oil
Salad
1 cup (250 ml) cooked mung bean noodles
2 Tbsp (30 ml) carrot, julienned
2 Tbsp (30 ml) red bell pepper, julienned
2 Tbsp (30 ml) water chestnut, julienned
1 tsp (5 ml) cilantro, chopped
Preparation
Dressing
In a small bowl, place the Pea-NOT butter. Whisk with the soy sauce. Then, add all the other ingredients and whisk well. Set aside.
Salad
In a bowl, place the noodles, carrot, bell pepper and water chestnut. Pour the dressing over and mix well.
Garnish with the cilantro.
Tip : If you bring your salad in your lunch box, bring the dressing and salad in two different containers. Mix together right before eating.
Nutritional facts
Energy

369 kcal

Protein

1.5 g

PHE

70 mg

TYR

43 mg

LEU

99 mg

VAL

69 mg

ILE

63 mg

MET

19 mg

LYS

70 mg
Energy

369 kcal

Protein

1.5 g

PHE

70 mg

TYR

43 mg

LEU

99 mg

VAL

69 mg

ILE

63 mg

MET

19 mg

LYS

70 mg
© Genevieve Lafrance 2023