Categories
Sloppy Jack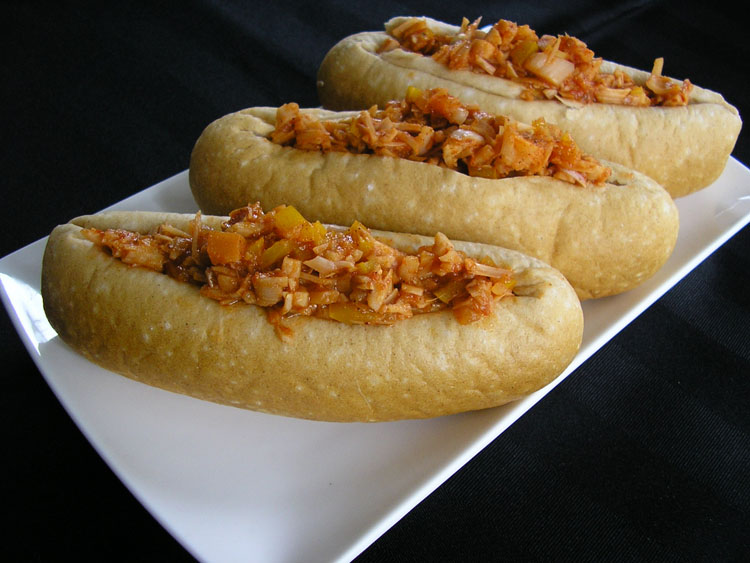 Yield
Number of servings: 8
Serving size: 1/4 cup
Ingredients
1 can (565 g or 20 on) Jackfruit green in brine (not in syrup !)
1 Tbsp (15 ml) olive oil
¼ cup (60ml) onion, chopped
1 garlic clove, chopped
1/3 cup (75 ml) red bell pepper, chopped
1 tsp (5 ml) chili powder
½ tsp (2,5 ml) dried mustard
1 pkg G. Washington golden seasoning and broth (0945)
1/3 cup (75 ml) chili sauce (Heinz)
1 tsp (5 ml) brown sugar
2 Tbsp (30 ml) tomato sauce
2/3 cup (150 ml) water
Preparation
Open and drain canned jackfruit. Rinse and chop with a knife (we want to simulate ground meat).
In a skillet, heat the oil. Cook onion, garlic and chopped pepper for a few minutes. Add chili powder and mustard. Stir well.
Add the jackfruit, broth, chili sauce, brown sugar, tomato sauce and water. Simmer for a few minutes until the water has almost all evaporated.
Suggestion: Serve in a hot dog bread, for example bread Brooklyn Cambrooke of dog foods (2616). Don't forget to add your bread's nutritional value!
Nutritional facts
Energy

49 kcal

Protein

0.8 g

PHE

23 mg

TYR

12 mg

LEU

28 mg

VAL

26 mg

ILE

20 mg

MET

6 mg

LYS

25 mg
Energy

395 kcal

Protein

6.1 g

PHE

184 mg

TYR

100 mg

LEU

227 mg

VAL

204 mg

ILE

156 mg

MET

51 mg

LYS

202 mg
© Genevieve Lafrance 2023