Categories
Italian sausage meat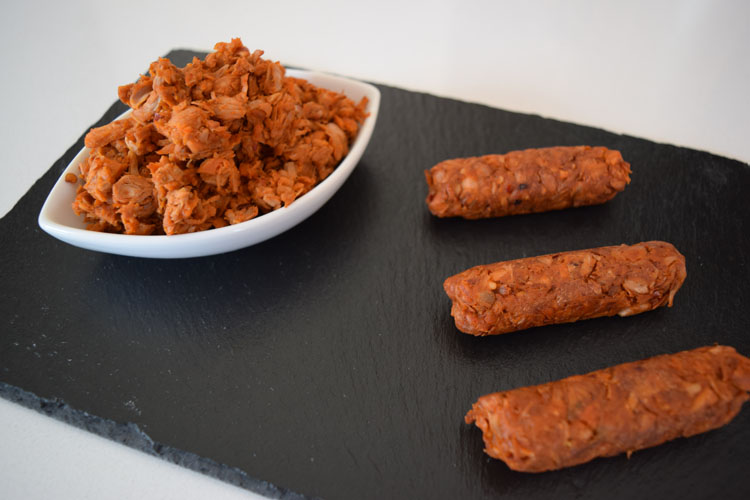 Yield
Number of servings: 6
Serving size: 6 small sausage of 1/4 cup (60 ml)
Ingredients
1 can of green Jackfruit in brine (not syrup!)
2 Tbsp (30 ml) white wine
2 garlic cloves, finely chopped
1 Tbsp (15 m) paprika
½ tsp (2.5 ml) fennel seeds
1 tsp (5 m) hot pepper flakes
½ tsp (2.5 ml) salt
1 Tbsp (15 ml) olive oil
2 Tbsp (30 ml) Wel-Plan baking mix (1123)
Preparation
Drain the canned Jackfruit. Rinse well, drain, shred and chop coarsely. Place in a bowl.
In a mortar, crush fennel seeds and pepper flakes. Add to jackfruit.
Add also, white wine, garlic, paprika and salt. Mix well. Cover with plastic wrap and marinate overnight.
In a skillet over, medium heat, heat oil. Sauté the mixture of jackfruit for about 5-7 minutes. Add baking mix Wel-Plan and mix well.
You can wait for the mixture to cool slightly and form sausages or patties and roast again.
You can use this mixture wherever you would use the Italian sausage meat : pasta, spaghetti sauce, pizza, omelets, etc.
Warning: The mixture is HOT as are the hot Italian sausages. For a milder taste, reduce the amount of red pepper flakes or simply omit!
Inspired by a recipe from Ricardo (Homemade Italian sausage bite).
Nutritional facts
Energy

60 kcal

Protein

0.6 g

PHE

27 mg

TYR

17 mg

LEU

38 mg

VAL

36 mg

ILE

27 mg

MET

10 mg

LYS

30 mg
Energy

359 kcal

Protein

3.9 g

PHE

160 mg

TYR

103 mg

LEU

231 mg

VAL

216 mg

ILE

160 mg

MET

58 mg

LYS

182 mg
© Genevieve Lafrance 2023