Categories
Butternut squash sauce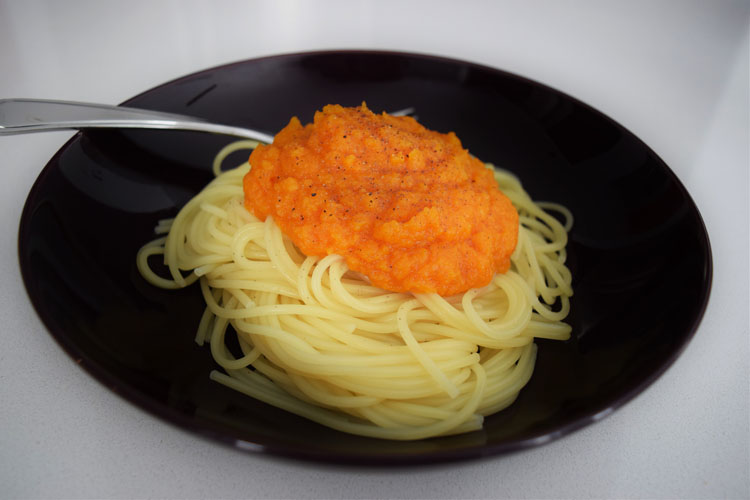 Yield
Number of servings: 8
Serving size: 1/2 cup (125 ml)
Ingredients
2 Tbsp (30 ml) oil
½ onion (50 g) chopped
2 garlic clove, chopped
1/3 cup (75 ml) white wine
1 medium butternut squash, cubed (about 6 cups or 1000 g)
1 3/4 cup (435 ml) vegetable stock
¼ cup (60 ml) whipping cream
Salt and pepper
Preparation
In a large pot, heat oil. Saute onion for a few minutes. Add garlic and cook about 30 seconds (it should not become dark). Add the white wine and reduce by half. Add squash and broth. Bring to a boil and cook for about 20-25 minutes, until the squash is tender.
Puree everything (using a blender or a hand blender). Add the cream and season to taste.
Serve over low protein pasta (protein content not included).
Nutritional facts
Energy

124 kcal

Protein

1.6 g

PHE

61 mg

TYR

52 mg

LEU

92 mg

VAL

70 mg

ILE

62 mg

MET

21 mg

LYS

64 mg
Energy

990 kcal

Protein

12.6 g

PHE

486 mg

TYR

420 mg

LEU

738 mg

VAL

561 mg

ILE

495 mg

MET

167 mg

LYS

516 mg
© Genevieve Lafrance 2023