Categories
Trifle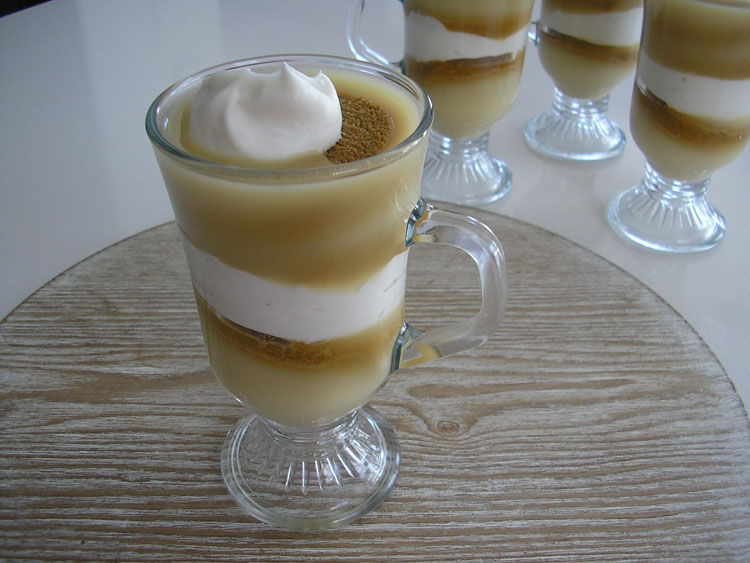 Yield
Number of servings: 4
Serving size: 1 cup (250 ml)
Ingredients
12 low protein graham crackers from Dietary specialties (1009)
2 ½ cups (625 ml) unsweetened flax drink
1 pkg Nutriwhip
1 pkg Jello Instant pudding mix - Vanilla
Preparation
In a bowl, using an electric mixer, whisk together ½ cup of flax drink with Nutriwhip.
In another bowl, whisk together 2 cups of flax drink with the instant pudding.
In 4 glasses, make individual trifle. Start with the pudding, put 1 cookie on the pudding, then put Nutriwhip. Put 1 cookie, put the rest of the pudding and finish with 1 cookie.
Refrigirate for at least 12 hours. Enjoy.
Note: Make this recipe with unsweetened flax drink, otherwise it will be too sweet.
Nutritional facts
Energy

356 kcal

Protein

1 g

PHE

39 mg

TYR

37 mg

LEU

72 mg

VAL

53 mg

ILE

39 mg

MET

22 mg

LYS

44 mg
Energy

1424 kcal

Protein

3.9 g

PHE

155 mg

TYR

147 mg

LEU

288 mg

VAL

211 mg

ILE

156 mg

MET

86 mg

LYS

175 mg
© Genevieve Lafrance 2023