Categories
Brownies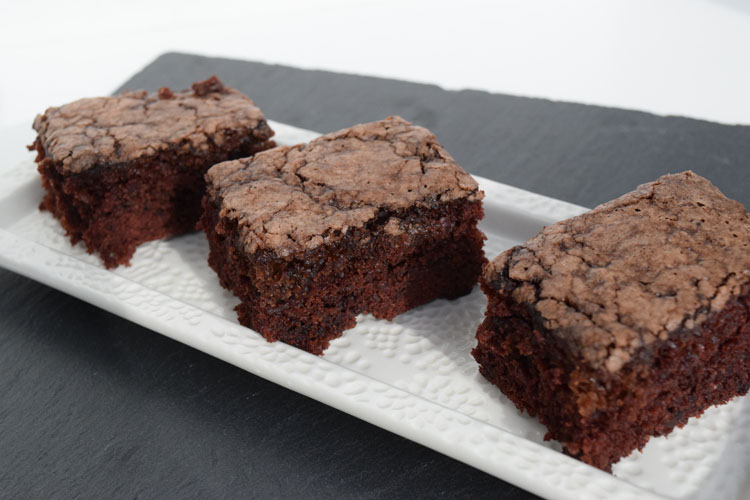 Yield
Number of servings: 12
Serving size: 1 piece (1/12 of the recipe)
Ingredients
180 g Welplan baking mix (around 1 ¼ cup or 310 ml) (1123)
20 g cake flour (around 3 Tbsp)
20 g cocoa (¼ cup or 60 ml)
¾ tsp (4 ml) baking soda
1 pinch of salt
¾ to 1 cup (175-250 ml) aquafaba (liquid from 1 can of chickpeas – Choose a salt free version)
1 cup (250 ml) sugar
½ cup (125 ml) canola oil
2 tsp (10 ml) vanilla
2 tsp (10 ml) vinegar
Preparation
Preheat the oven to 350 F.
In a bowl, sift the dry ingredients together. Set aside.
In another bowl, place the aquafaba. Using a hand mixer with the whisk attachment, whisk for 4-7 minutes to obtain soft peaks.
Gradually add the sugar while continuing to whisk. Then, slowly add the oil while continuing to whisk. Then add vanilla and vinegar while whisking.
Add the dry ingredients and fold into the mixture.
Pour into a 8 x 8 inch square pan doubled with parchment paper.
Bake for 35-45 minutes, until a toothpick comes out clean.
Nutritional facts
Energy

227 kcal

Protein

0.8 g

PHE

36 mg

TYR

28 mg

LEU

47 mg

VAL

86 mg

ILE

68 mg

MET

29 mg

LYS

60 mg
Energy

2729 kcal

Protein

9.3 g

PHE

437 mg

TYR

330 mg

LEU

569 mg

VAL

1031 mg

ILE

815 mg

MET

347 mg

LYS

717 mg
© Genevieve Lafrance 2023