Categories
Pea-not cookies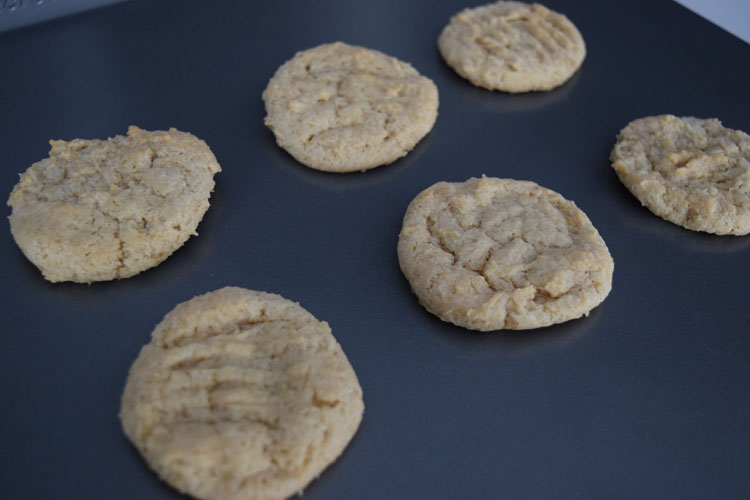 Yield
Number of servings: 30
Serving size: 1 cookie
Ingredients
250 g (2 cups) Wheat Starch (0454 or 2203)
25 g cake flour
1 tsp (5 ml) xanthan gum
50 g Jello vanilla instant pudding mix
1 tsp (5 ml) baking powder
½ tsp (2,5 ml) baking soda
½ cup (125 ml) margarine
¼ cup (60 ml) Pea-not butter (2933)
½ cup (125 ml) sugar
½ cup (125 ml) brown sugar (not packed)
¼ cup (60 ml) unsweetened almond milk
Preparation
Preheat oven to 350 F.
In a bowl, mix together the dry ingredients. Set aside.
In another bowl, using an electric hand mixer, cream the margarine and the pea-not butter. Add sugar and brown sugar and mix until the mixture becomes light.
Pour the dry ingredients in the margarine mixture. Add the almond drink and mix well.
Divide the dough into 30 servings. Place on a cookie sheet and gently flattened them.
Bake in the top of the oven for 14-16 minutes.
Nutritional facts
Energy

93 kcal

Protein

0.2 g

PHE

8 mg

TYR

6 mg

LEU

13 mg

VAL

8 mg

ILE

8 mg

MET

3 mg

LYS

5 mg
Energy

2804 kcal

Protein

5.1 g

PHE

238 mg

TYR

184 mg

LEU

387 mg

VAL

246 mg

ILE

225 mg

MET

98 mg

LYS

153 mg
© Genevieve Lafrance 2023