Categories
Eclairs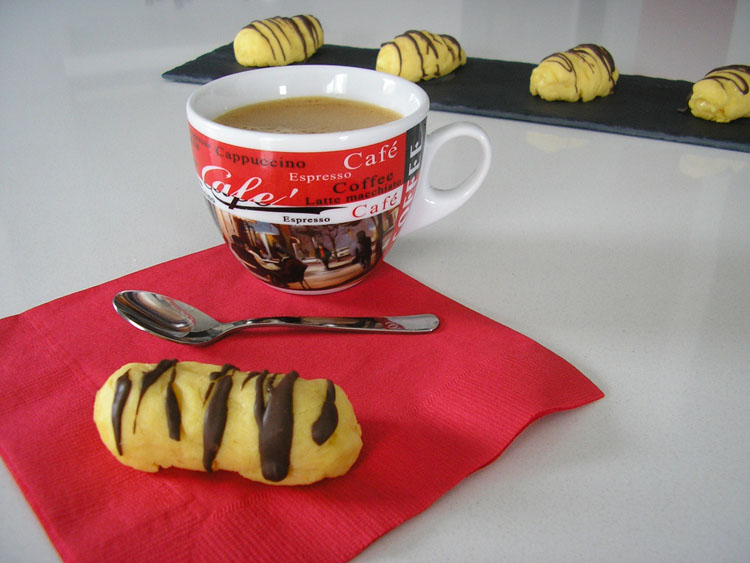 Yield
Number of servings: 12
Serving size: 1 eclair
Ingredients
Choux pastry
2/3 cup (165 ml) Welplan baking mix from Nutricia (1123)
½ cup (125 ml) Country Sunrise egg substitute (0951)
½ tsp (2.5 ml) baking powder
1 cup (250 ml) water
6 Tbsp (90 ml) butter
¼ square (30 g) Plymouth pantry chocolate (0917)
Filling
½ cup (125 ml) original rice milk
1 Tbsp (15 ml) sugar
1½ tsp (7,5 ml) mixture for Bird's custard
Preparation
Preheat oven to 425 F.
In a bowl, mix the baking mix, the egg substitute and baking powder.
In a microwave safe dish, boil water with butter.
Pour the water and melted butter in a large bowl. Add the flour mix all at once. Using an electric mixer, beat at medium speed for a few minutes. If necessary, add water 1 Tbsp (15 ml) at a time. The texture of the dough should look like playdough.
Separate into 12 servings. With your hands, form the eclair and place it on a baking sheet lined with parchment paper.
Cook for 30-35 minutes.
Cool completely. Using a skewer, make a hole from one side to the other of the eclair. This will help to garnish it.
Decorate with melted chocolate.
In the meantime, in a microwave safe container, stir together the rice milk, sugar and custard mix. Cook in microwave on high for 1 minute 30 seconds, whisking to halfway. The mixture should have thickened. Place a plastic wrap directly on the custard and cool completely in the refrigerator. This will prevent a skin from forming.
When ready to serve, divide the filling into 12 eclairs and fill with a piping bag.
Nutritional facts
Energy

114 kcal

Protein

0.2 g

PHE

8 mg

TYR

7 mg

LEU

14 mg

VAL

9 mg

ILE

7 mg

MET

3 mg

LYS

10 mg
Energy

1374 kcal

Protein

2.1 g

PHE

98 mg

TYR

81 mg

LEU

170 mg

VAL

113 mg

ILE

87 mg

MET

33 mg

LYS

116 mg
© Genevieve Lafrance 2023