Categories
Granola bars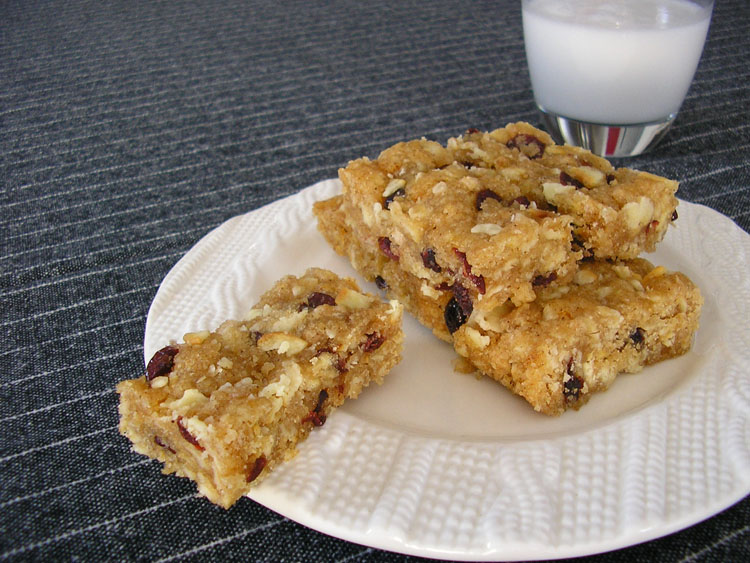 Yield
Number of servings: 15
Serving size: 1 bar
Ingredients
1 cup (250 ml) Wel-Plan baking mix from Nutricia (1123)
½ cup (125 ml) dried cranberries
½ tsp (2.5 ml) cinnamon
1 tsp (5 ml) baking powder
1 box (150 g) Loprofin crackers from Nutricia (1107)
½ cup (125 ml) Loprofin cereals from Nutricia (1115)
¼ cup (60 ml) brown sugar
½ cup (125 ml) canola oil
½ cup (125 ml ) honey
1 tsp (5 ml) vanilla
Preparation
Preheat oven to 350F .
Line a square 8 in cake pan with parchment paper.
In a large bowl, mix together baking mix, cranberries, cinnamon and baking powder.
In a large resealable plastic bag, place the crackers and cereals. Seal the bag and remove as much air as possible. With a rolling pin, crush the content of the bag to obtain small pieces.
Pour content of the bag into the bowl with the baking mix.
In a measuring cup, stir together sugar, oil, honey and vanilla. Add this mixture to the baking mix mixture. Mix well.
Pour into prepared baking dish. Press well in the pan.
Bake for 25 minutes.
Cool completely before cutting into bars.
Nutritional facts
Energy

191 kcal

Protein

0.1 g

PHE

3 mg

TYR

2 mg

LEU

5 mg

VAL

4 mg

ILE

2 mg

MET

1 mg

LYS

3 mg
Energy

2869 kcal

Protein

1.8 g

PHE

50 mg

TYR

29 mg

LEU

76 mg

VAL

58 mg

ILE

37 mg

MET

18 mg

LYS

41 mg
© Genevieve Lafrance 2023