Categories
Crepe cake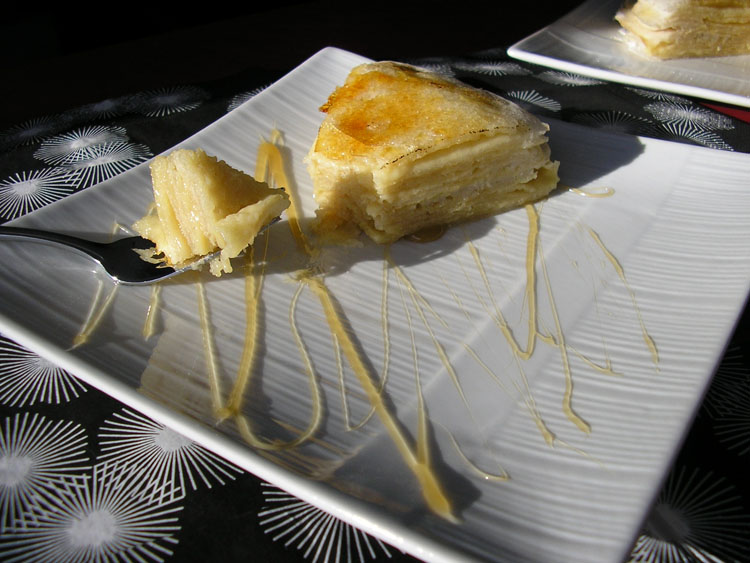 Yield
Number of servings: 8
Serving size: 1/8 of cake
Ingredients
Pancakes (12)
2 cups (500 ml) MixQuick from Cambrooke foods (2302)
2 Tbsp (30 ml) sugar
2 ½ cups (625 ml) water
½ tsp vanilla
Filling
2 Tbsp (30 ml) Bird's custard powder
2 Tbsp (30 ml) sugar
1 2/3 cup (410 ml) original rice milk
Sugar crust
Preparation
In a large bowl, whisk together the MixQuick , and water. Let the mixture rest for about 30 minutes.
In a nonstick 8 inches diameter skillet lightly greased and preheated, place the right amount of dough needed to cover the bottom with a thin layer. Evenly spread the mixture in the skillet. Cook about 1 minute. When bubbles begin to appear on top, flip the pancake. Cook for about 10 seconds on the second side. Repeat this step until there is no pancake batter left. There should be 12 pancakes at the end.
The batter tends to thicken over time. If it doesn't spread easily in the pan, simply add water in the batter, about 2 Tbsp (30 ml).
Let the pancakes cool in the refrigerator.
In a small saucepan, combine custard powder, sugar and rice milk. Whisk well to get a smooth mixture. Cook over a medium-low heat, whisking frequently . The mixture is ready when it starts to thicken.
Pour into a bowl and cover with plastic wrap directly on top of the preparation, to prevent a skin to form. Place the mixture in the refrigerator to cool completely.
When pancakes and topping are completely cooled, it's time to assemble. In the serving dish, place a pancake. Put 3 Tbsp (45 ml) of filling and spread well. Place a second pancake and filling on top. Repeat this process using all the pancakes and filling. Finish with a pancake.
Cover with plastic wrap and refrigerate for 12-24 hours.
When ready to serve, remove the plastic wrap. Place 2 Tbsp (30 ml) of sugar on top. Using a kitchen torch, burning the sugar to obtain a crispy layer.
Enjoy !
Nutritional facts
Energy

168 kcal

Protein

0.2 g

PHE

6 mg

TYR

5 mg

LEU

7 mg

VAL

2 mg

ILE

1 mg

MET

1 mg

LYS

5 mg
Energy

1348 kcal

Protein

1.2 g

PHE

49 mg

TYR

37 mg

LEU

54 mg

VAL

18 mg

ILE

10 mg

MET

5 mg

LYS

37 mg
© Genevieve Lafrance 2023