Categories
Sweet crisp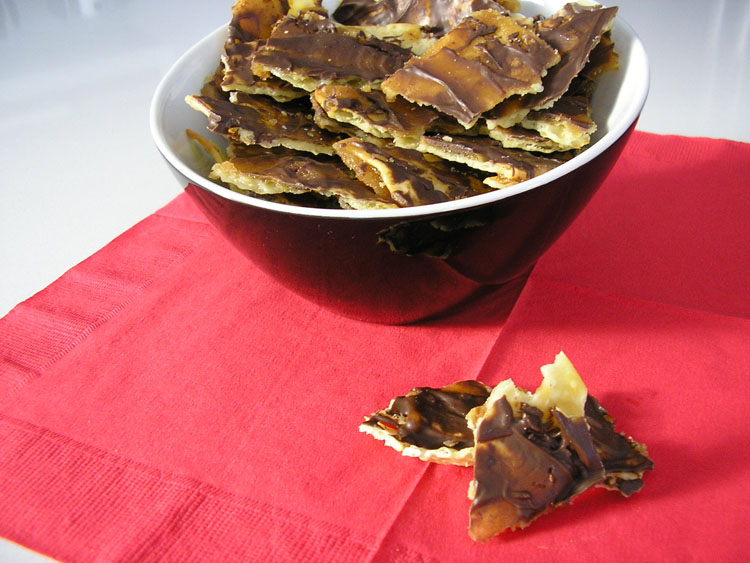 Yield
Number of servings: 20
Serving size: 1 cracker
Ingredients
20 Loprofin crackers from Nutricia (1107)
½ cup (125 ml) margarine
¾ tasse (175 ml) brown sugar
1 square (57 g) finely chopped Plymouth Pantry chocolate (0917)
Preparation
Preheat oven to 350 F.
Place crackers on a buttered cookie sheet side by side. In a small saucepan, heat the margarine and brown sugar. Simmer for 2-3 minutes. Pour mixture over crackers. Cook for 5 minutes in the oven.
When out of the oven, sprinkle chocolate on crackers. When melted, spread well.
Place the plate in the freezer for 10 minutes.
Remove from freezer and break into pieces.
Refrigerate.
Nutritional facts
Energy

104 kcal

Protein

0.1 g

PHE

4 mg

TYR

4 mg

LEU

7 mg

VAL

5 mg

ILE

4 mg

MET

2 mg

LYS

6 mg
Energy

2074 kcal

Protein

2.1 g

PHE

87 mg

TYR

76 mg

LEU

148 mg

VAL

104 mg

ILE

87 mg

MET

33 mg

LYS

112 mg
© Genevieve Lafrance 2023