Categories
Watermelon lemonade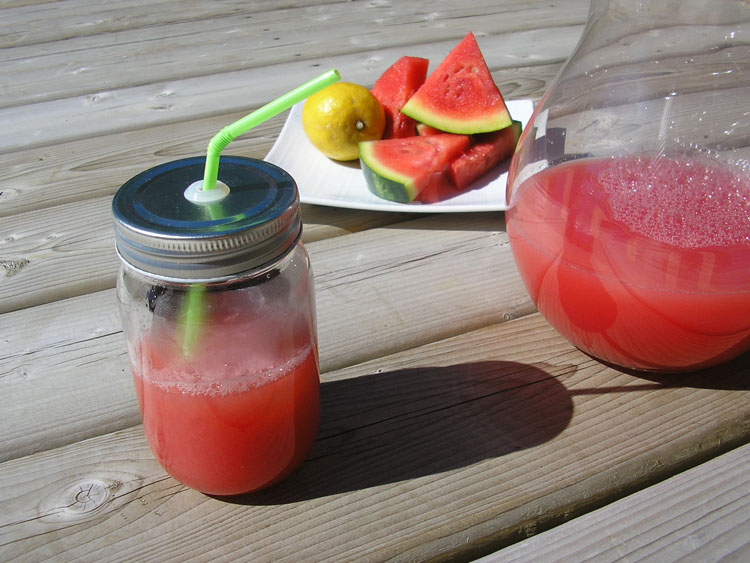 Yield
Number of servings: 10
Serving size: 1/2 cup (125 ml)
Ingredients
1 cup (250 ml) boiling water
1/3 (75 ml) cup sugar
5 cups (1250 ml) watermelon in cubes
¾ cup (175 ml) lemon juice
Preparation
Dissolve the sugar in boiling water. Let the syrup cool to room temperature.
Place watermelon in cubes in the jug of a blender and blend until smooth.
Strain through a fine sieve. Keep only the juice and add to the cooled syrup.
Add the lemon juice to the preparation. Mix well and enjoy.
Suggestion : For a sparkling beverage, add ¼ cup (60 ml sparkling water) to ¾ cup (175 ml) of water lemonade.
Nutritional facts
Energy

51 kcal

Protein

0.5 g

PHE

13 mg

TYR

10 mg

LEU

15 mg

VAL

14 mg

ILE

15 mg

MET

5 mg

LYS

49 mg
Energy

509 kcal

Protein

5.3 g

PHE

132 mg

TYR

95 mg

LEU

154 mg

VAL

139 mg

ILE

151 mg

MET

49 mg

LYS

489 mg
© Genevieve Lafrance 2023