Categories
Eggplant bacon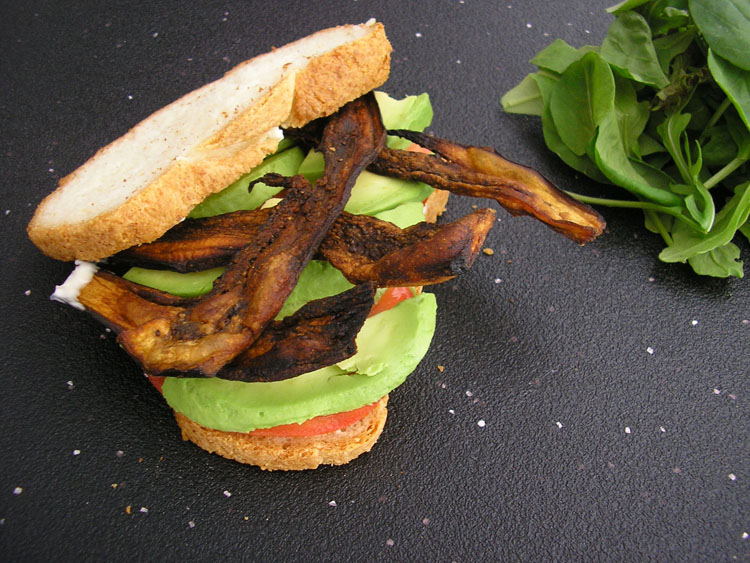 Yield
Number of servings: 25
Serving size: 1 strip
Ingredients
1 medium eggplant (300 g will be used for the recipe)
Salt and pepper
1 Tbsp (15 ml) smoked paprika
3 Tbsp (45 ml) olive oil
Preparation
Preheat oven to 375 F.
Remove the 2 ends of the eggplant. Lengthwise, remove a slice on each side (peel only).
Make slices lengthwise, 2.5 cm (1 inch) thick. About 3 slices for a medium sized eggplant.
Take each section, place it flat on the board and make slices of 0.5 cm (1/4 inch) thick. You should have eggplant slices of the size of a bacon stip! Each eggplant strip weight approximately 12 g before cooking.
Repeat with all the eggplant.
Place the strips in a large bowl. Salt (several pinches) and pepper to taste.
Add smoked paprika. Mix well to evenly distribute.
Add olive oil 1 Tbsp (15 ml) at a time, mixing well after each addition.
Spread on a baking sheet lined with oiled parchment paper. It is important that strips don't touch an other.
Bake for 20-25 minutes. Turn and continue cooking for about 20 minutes. Carefully check cooking for the last 20 minutes. The thinner stips cook faster. We don't want them to burn!
When they are taken out of the oven, they are very crispy. Cool and store in the refrigerator in an airtight container for several days. Immediately before serving, heat in the microwave for about 30 seconds. They regain their crisp!
Ideal as garnish in sandwiches or soups.